What is The Womanizer?
All hyperbole aside, The Womanizer is a complete and total game-charger for the way you love to orgasm. The way it stimulates is unique and unlike anything on the market. In a short period since it's introduction, it has managed to climb its way to the top and is now one of the top selling adult toys for women. Here's why… The Womanizer is the most popular of its kind to use "air" to simulate a woman's clitoris and bring her to orgasm. 
You're probably asking, "Okay, so what?" The big fuss is in its ability to allow women to have multiple orgasms, truly. Unlike most other toys which cause loss of sensation or over-sensitivity after an orgasm or two, the Womanizer "touch-less stimulation" allows you to keep going and going. Check out the gif below to see how it works: Completely touch free!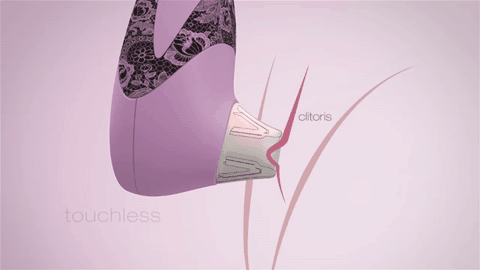 In a study of fifty women, ranging from twenty to sixty years in age, the Womanizer® received ratings from "very good" to "outstanding."   

Women Seem to Love It
The Womanizer uses a combination of suction and vibration to achieve that unmistakable and unique feeling. According to a study of 50 women (ranging from 20 to 60 years of age) conducted by the manufacturer of The Womanizer, the product received very high marks:
·      100% said The Womanizer was absolutely unique
·      98% of the women reported that they would like to own the Womanizer
·      50% of women had an orgasm in less than 1 minute
·      73% said they experienced multiple orgasms
·      76% had an exceptionally intense orgasm sensation
Two Versions of The Womanizer are Available
Available now are the Womanizer W100 and the Womanizer Pro W500. Here are the key differences in a nutshell: 
·      Silent Mode 42 db – so you can love on yourself even with guests around. 
·      Regular and XL stimulation heads for better fit no matter what your size
·      8 modes including softer if you're more sensitive AND stronger levels than the W100.
·      Beautiful ergonomic design
Latest posts by Ella Paradis
(see all)